I-GRAPH XS Laboratory Chromatograph
Standalone - Battery Powered (also available in solar powered)
The I-Graph XS Chromatograph is an economical gas analyser designed for the laboratory. The compact bench-top version weighs just 3.5 Kg and is a multi-functional chromatograph. It is ideal for both one-off and permanent analysis.
The standard version of the l-Graph XS chromatograph is specifically-designed for laboratory use. Thanks to its integrated vector gas supply, it is portable and so ideal for individual applications. It's very short measurement cycles allow for short-term analyses.
The user is kept informed of its status via electronic monitoring. Its integrated pump can also analyse samples without the use of pressure.
The device's touch screen also allows completely independent usage and all its key functions can be accessed via the display. Measurement data and results are instant. The l-Graph XS can be connected to a PC for graphical and technical data evaluation. The required GCM Manager software comes pre-installed.
Technical specifications of I-GRAPH XC
Detector: conductivity detector (TCD)
Sensitivity

< 10 ppm DTS
< 50 ppm GTS

Analysis time: 30 to 180s
Measurement channels (streams): 8
Operating temperature: + 2°C to + 55°C
Max. Analysis temperature: +350°C
Max. Temperature ramp: 8°C/s
Sample gas volume: 0.05 µl up to 6µl
Sample gas input (pump): -0.6 bar up to +0.6 bar
Sample gas inlet (static): 0.5 bar up to 10 bar
Vector gas: He, Ar, N2, H2
External carrier gas pressure: 1 bar up to 10 bar
Vector gas consumption:

100 µl/min DTS
500 µl/min GTS

Vector gas supply: internal / external
Mobile vector gas cartridge: 100 ml / 10 bar
Pump: Manual
Gas fittings: Vici screw clamp 10-32 1/16 tube
Sample supply: direct
Cooling column: fan
Relative humidity: <60%
Pressure regulator: two-level pressure regulator
Type of protection: IP44
Power supply: 90 to 240 VAC
Voltage: 24 VDC
Power: 15 to 90 W max.
Version: laboratory
Dimensions (L x W x H): 15 x 30.5 x 28 cm
Weight: 3.5 Kg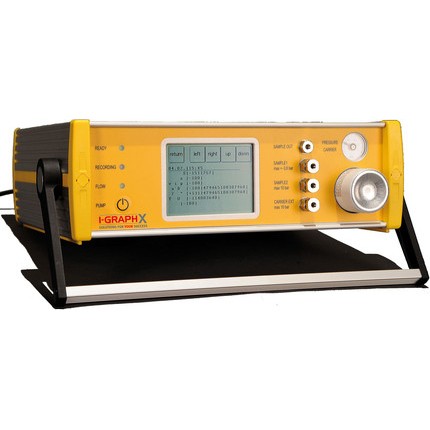 Highlights
TCD Detector
Compact
Cost-effective
One-off analysis
Permanent analysis
PC connection
Graphical data analysis