Static I-GRAPH XP / XPX Chromatograph
I-Graph XPX compact version for EX1 zones (areas where there is a risk of explosion).
ATEX certified (BVS 08 ATEX E 145 X), with GOST and UL certification pending
The I-Graph XP Chromatograph is an integrated, ultra-compact analysis system for process applications. In addition to its micro-module, the compact case also houses a gas conditioning system with pressure regulators, a bypass switch and transfer pumps.
This robust device system makes it easy to to analyse, identify and quantify all kinds of gas mixtures. The I-Graph XP chromatograph has been designed for static use. It provides data that can be transmitted analogously or via corresponding interfaces to an API control system. Subsequent processing and evaluation of measurement data can be performed using the GCM Manager software.
Thanks to its very short measurement cycles, the I-Graph XP chromatograph is the ideal tool for gas analysis during processes. Its permanent analysis allows continuous, automatic monitoring of installations. Analyses can be automatically programmed, saving you both time and money. It is a very precise and effective tool.
The I-Graph XP chromatograph analyses gas quality, product transport and exhaust gases all in real time. It is also ideal for general monitoring of production processes. The compact version, the I-Graph XPX, has been specially-designed for use in EX1 areas where there is a risk of explosion. It has also been ATEX-certified (BVS 08 ATEX E 145 X). GOST and UL certifications are pending.
Technical Specifications of the I-GRAPH XP / XPX Chromatograph
Detector: conductivity detector (TCD)
Sensitivity standard:

< 10 ppm DTS
< 50 ppm GTS

Analysis time:
30 s up to 180 s
Measurement channels (streams): 8
Operating temperature: -20°C to + 60°C
Max. Analysis temperature + 350°C
Max. Temperature ramp: 8°C/s
Sample gas volume: 0.05 µl to 6µl
Sample gas input (pump) : -0.6 bar to +0.6 bar
Sample gas inlet (static): 0.5 bar to 10 bar
Vector gas: He, Ar, N2, H2
External pressure of the carrier gas: 1 bar to 10 bar
Vector gas consumption:

100 µl/min DTS
500 µl/min GTS

Vector gas supply: external
Pump: Software Controlled
Gas connections: 3 mm Swagelok screw clamp
Sample supply: internal bypass switching
Cooling column: fan
Relative humidity: < 60%
Pressure regulator: two-level
Type of protection :

I-Graph XP : IP54
I-Graph XPX : IP65

Power supply: 24 VDC
Voltage: 24 VDC
Power: 12W jusqu'à 60 W max.
Version :

I-Graph XP : process version processus
I-Graph XPX : ex-process version

Dimensions (L x W x H) :

I-Graph XP : 15 x 30.5 x 28 cm
I-Graph XPX : 21 x 46 x 18 cm

Weight:

I-Graph XP : 3.5 Kg
I-Graph XPX : 12 Kg
I-GRAPH XP / XPX Chromatograph Uses
Product transportation
Exhaust gases monitoring
Monitoring of production processes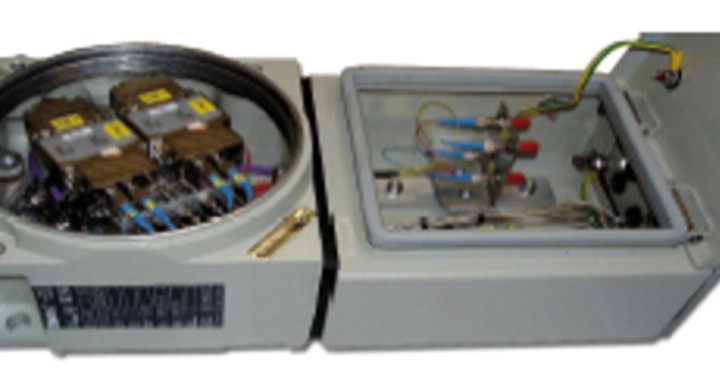 Highlights
TCD Detector
Process applications
Data processed via GCM Manager software
Continuous monitoring
Short measurement cyles
Save time and money